Categories
Categories
Brands
Brands
Nature's Sunshine - Ginkgo and Hawthorn Combination (100 Capsules)
Nature's Sunshine - Ginkgo and Hawthorn Combination (100 Capsules)
Nature's Sunshine - Ginkgo and Hawthorn Combination (100 Capsules)
Product Description
Nature's Sunshine

®

Ginkgo & Hawthorn Combination - A Nourishing Food Supplement with High Vitamin C Content
100 Capsules. 33 day supply. Suggested Use: Take one capsule with a meal three times daily. Do not exceed the stated recommended daily dosage.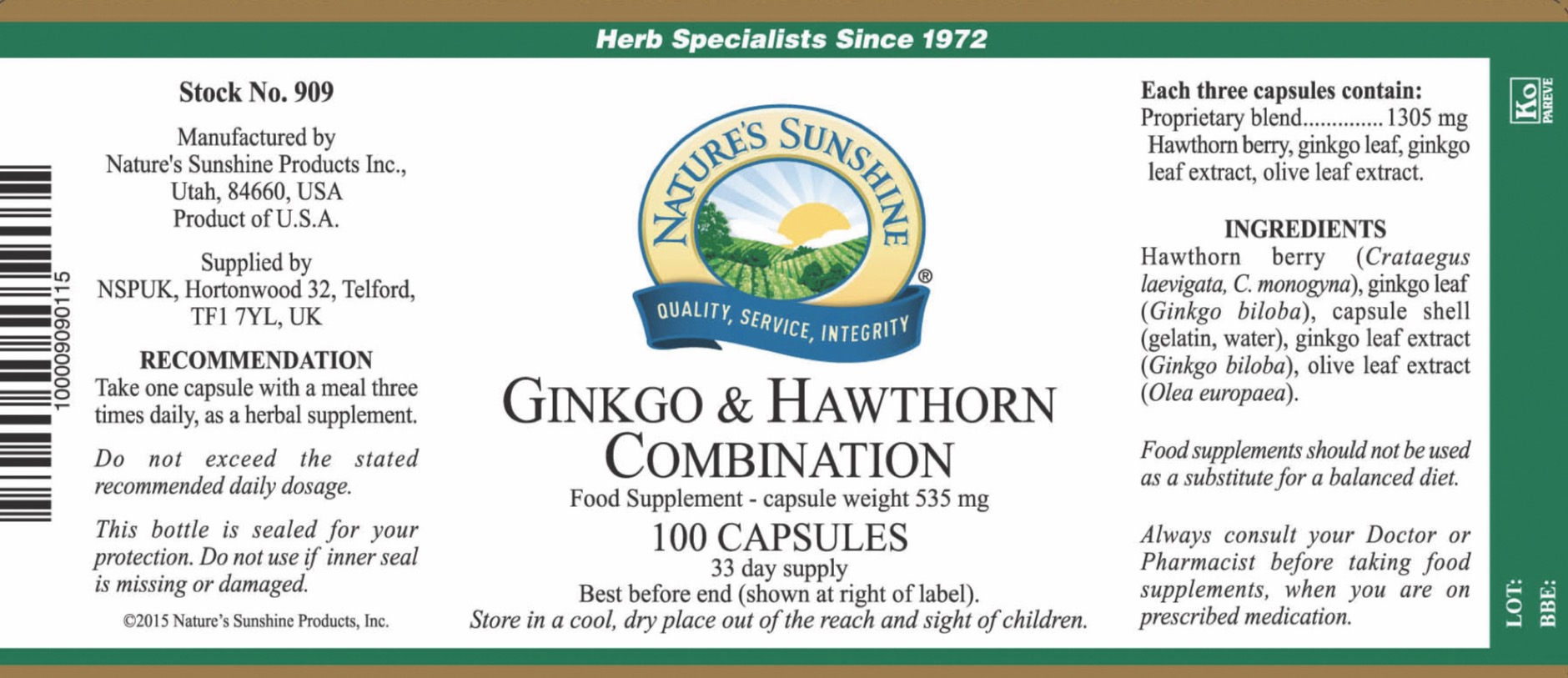 To open a larger .PDF version of this label please <Click Here>
The word 'ginkgo' comes from the Chinese word 'yinxing' meaning 'silver apricot'. Ginkgo biloba is one of the longest living tree species in the world and can live an incredible 1,000 years! Ginkgo biloba is a powerful antioxidant which protects cells from oxidative stress, and is one of the top-selling herbs in Europe. Antioxidants are natural substances which stabilise reactive molecules known as 'Free Radicals', also known as 'oxidants'. Free radicals occur naturally in the body as by-products of natural cell functions, but can also be increased by environmental factors, such as exposure to pollution, smoke, pesticides, chemical cleansers and toxins.
Nature's Sunshine® Ginkgo & Hawthorn Combination contains Ginkgo biloba leaves, and Hawthorn berries that contain high amounts of Vitamin C and bioflavonoids - nutritional compounds found together in nature. Antioxidant vitamin C is known to contribute to normal collagen formation for the normal function of blood vessels, and the protection of cells from oxidative stress. It also contributes to a reduction in tiredness and fatigue.
Ingredients: Hawthorn berry (Crataegus laevigata, C. monogyna), ginkgo leaf (Ginkgo biloba), capsule shell (gelatin, water), ginkgo leaf extract (Ginkgo biloba), olive leaf extract (Olea europaea).
Each 3 capsules contain: Proprietary blend - 1305mg Hawthorn Berry, ginkgo leaf, ginkgo leaf extract, olive leaf extract.
---
If you are pregnant, nursing, taking any medications or have any medical condition, please consult your healthcare practitioner before taking dietary supplements.
Food supplements should not be used instead of a varied balanced diet and a healthy lifestyle.
Other Details
Find Similar Products by Tag
Product Reviews
Find Similar Products by Category
Customers also viewed