Categories
Categories
Brands
Brands
Nature's Sunshine - Kelp & Hops Combination (100 Capsules)
Product Description
Nature's Sunshine

®

Kelp & Hops Combination - For the Glandular System
100 Capsules. 25 day supply. Suggested Use: Take two capsules with a meal twice daily.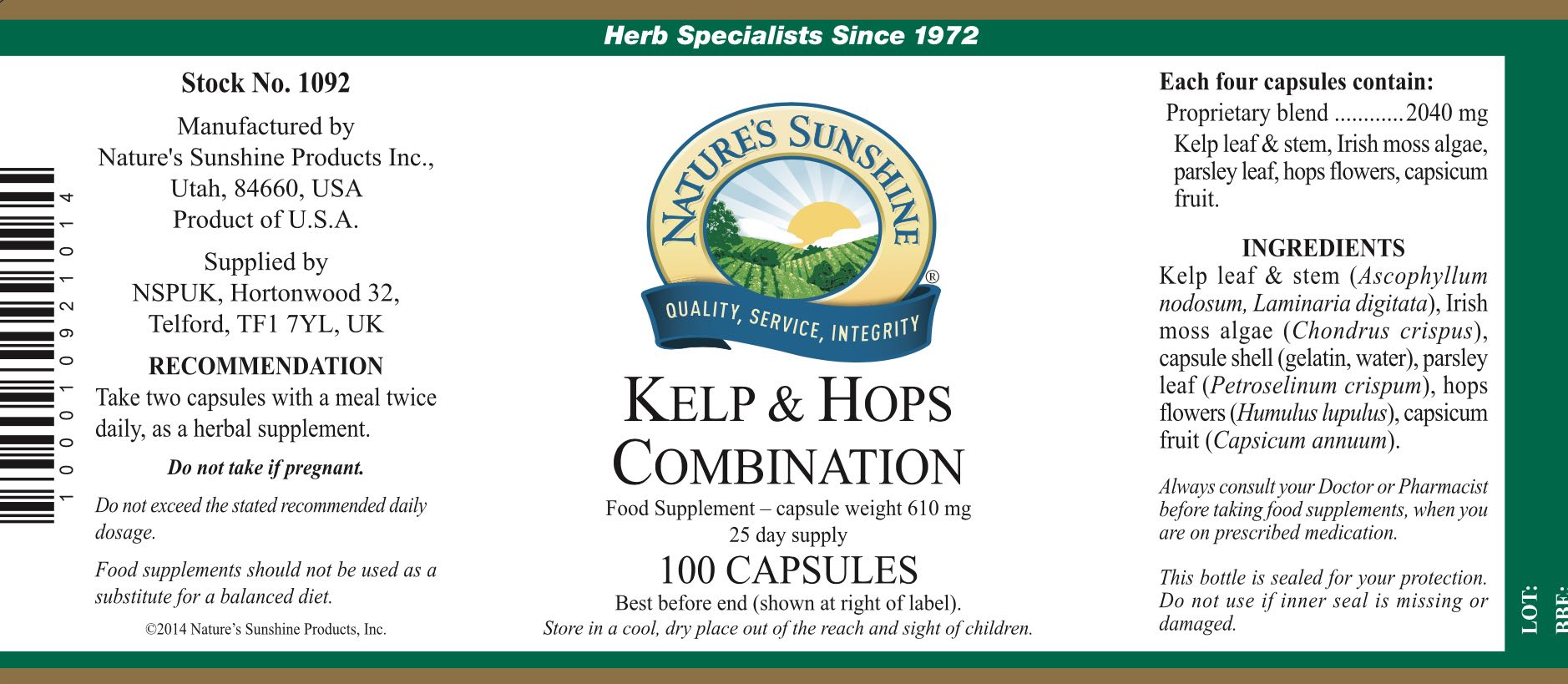 To open a larger .PDF version of this label please <Click Here>
Nature's Sunshine® Kelp & Hops Combination has been formulated to support healthy thyroid function. This product contains a unique blend of kelp plant, Irish moss plant, parsley herb, hops flowers and capsicum fruit.
Kelp is an excellent source of iodine, an essential nutrient for healthy thyroid function.
Hops contain nutrients such as vitamin B6, which contributes to the normal regulation of hormonal activity.
Parsley is a natural source of trace minerals and some vitamins.
Capsicum is rich in beta carotene, capsaicin, and a natural source of calcium, folate, magnesium, phosphorus and potassium. It contains vitamins A, as carotenoids, and vitamin C which are natural antioxidants.
Each four capsules of Nature's Sunshine® Kelp & Hops Combination contains: Proprietary blend 2040mg.
Ingredients: Kelp leaf & stem (Ascophyllum nodosum, Laminaria digitata), Irish moss algae (Chondrus crispus), capsule shell (gelatin, water), parsley leaf (Petroselinum crispum), hops flowers (Humulus lupulus), capsicum fruit (Capsicum annuum).
WARNING
Note: Not suitable for use during pregnancy.
---
If you are pregnant, nursing, taking any medications or have any medical condition, please consult your healthcare practitioner before taking dietary supplements.
Food supplements should not be used instead of a varied balanced diet and a healthy lifestyle.
Other Details
Find Similar Products by Tag
Product Reviews
Find Similar Products by Category
Customers also viewed