On February 15, 2022, Paul Hopfensperger, CEO of Body and Mind Studio International Ltd in the United Kingdom, achieved a goal he set himself back in 2011 by becoming the official UK/EU/EEA and Switzerland Distributor for the D'Adamo Personalized Nutrition range of products and services manufactured by North American Pharmacal, Inc. (NAP) in the USA. Paul was interviewed by the NAP CEO Martha D'Adamo. This is what they discussed.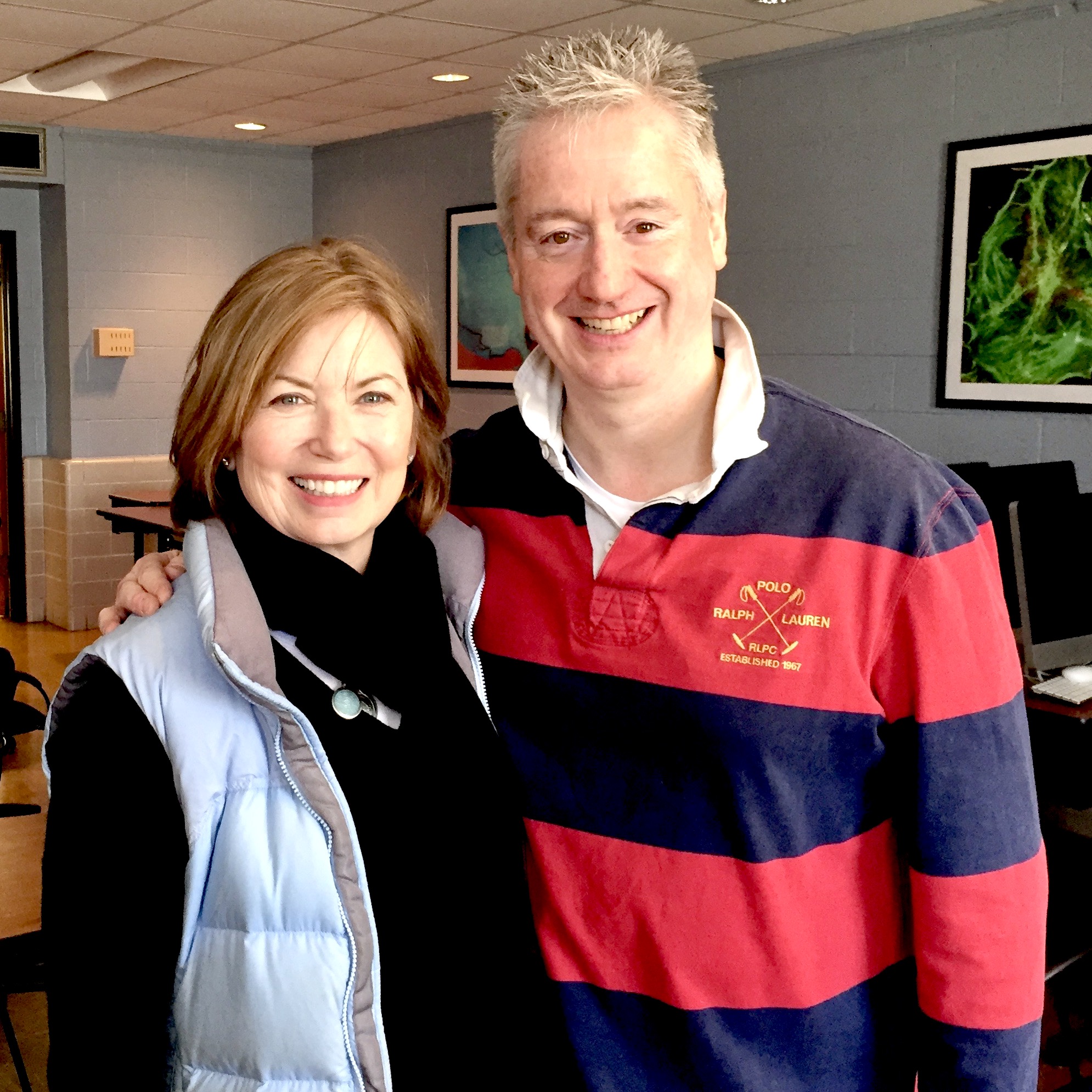 Above: Martha D''Adamo with Paul at the University of Bridgeport School of Naturopathic Medicine, USA, April 2016.
How did you first hear about Dr. D'Adamo and the Blood Type Diet?
After graduation, on January 5, 2011, my nutrition lecturer asked me to come back to complete their Blood Type Diet Diploma. I vacantly asked, "What is the Blood Type Diet?". He replied, "What blood type are you?". "A+" I responded. His response felt as though I had been punched in the face; "Blood Type A. Shouldn't eat red meat. Very susceptible to colon cancer" he said. Wow! 47 years old, had blood coming out of me for about 5 years and no one had ever told me that before! I have not eaten red meat since that fateful January day nearly 12 years ago, have never felt better and have had no blood come out ever since! I bought Dr. D'Adamo's book, Eat Right For Your Type, booked onto his courses to become a Fellow and Master of his Institute for Human Individuality, and committed to finding out everything I could about this amazing new discovery.
What drives your commitment to excellence?
The day I started work on July 25, 1979, I was shown a sign. It read "If a job's worth doing, it's worth doing well." I have this incredible desire to achieve and be the best I can possibly be at whatever it is I do. If I ever start to falter, I picture this sign in my mind and it fires me up to do well. I am very intolerant of sloppiness – of people not doing their best. If you can't do your best at whatever it is you are doing, why bother doing it at all?
What do you love most about your job?
I love helping people achieve their goals whatever they may be. One of my favourite sayings is by the late Zig Ziglar. He said "If you help enough people get what they want, you can have everything you want." When people telephone me and ask me about The Blood Type Diet, what it is, does it work etc? I tell them my story. It blows them away! Over the years I have collected many stories from other people and I tell my story and other people's stories to as many people as I can on a daily basis. The more stories I collect, the more people I can help. I love it!
What is your favourite D'Adamo Personalized Nutrition Product?
Genoma Security due to it containing the herb Schisandra chinensis. I first learned about this herb at a conference in 1987 and how it was used by the Sherpas in the Himalayas to assist with breathing issues, important when living at high altitude in the Himalayas. In Traditional Chinese Medicine (TCM) Schisandra chinensis is considered beneficial to qi (chi), the life force inherent in all living things. When I found Dr. D'Adamo's Genoma Security which contained not only Schisandra chinensis but four additional well-researched Chinese herbs, I was very excited! I never go anywhere without a tub of Genoma Security in my luggage.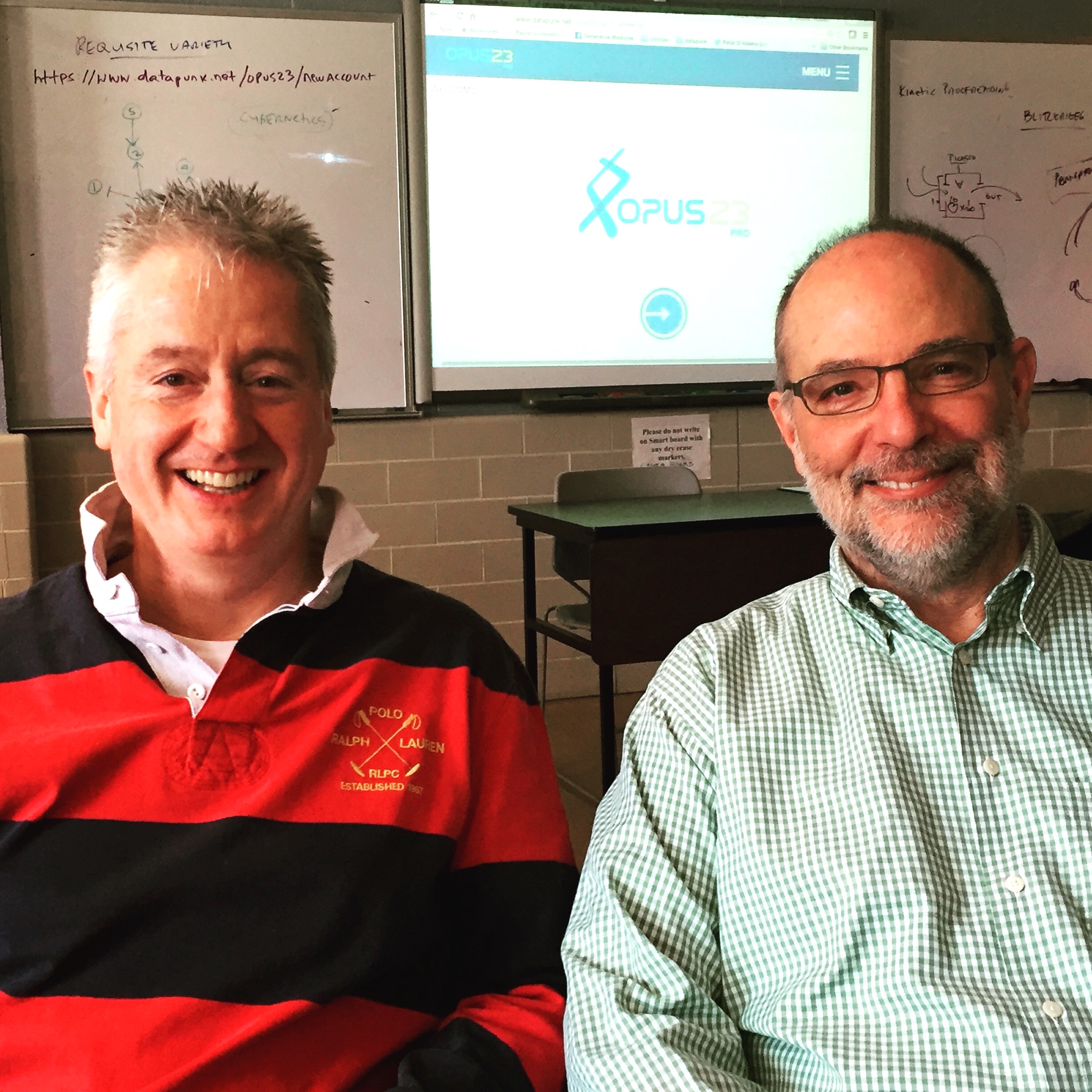 Above: Dr. Peter D'Adamo with Paul at the first OPUS23 training at the University of Bridgeport School of Naturopathic Medicine, USA, April 2016.
What is your vision for the next 3 years?
As the new UK, EU, EEA and Swiss distributor for D'Adamo Personalized Nutrition, I aim to share the benefits of The Blood Type Diet and the D'Adamo Personalized Nutrition supplements to as many people as I possibly can. I want everyone to know their blood type, and what to eat and not to eat based on this important scientifically proven information. This is my goal, and I am big on setting and achieving goals. It's what I've done my entire life!
---
Body and Mind Studio International Ltd is the official distributor for the United Kingdom (including The Channel Islands, Isle of Man and the British Overseas Territories), European Union, European Economic Area and Switzerland. To join our ever expanding team of resellers, click here >> Reseller Application <<
---
About Dr. Peter J. D'Adamo ND MIfHI
Dr Peter J. D'Adamo is an eminent naturopathic physician and researcher with a wide international following and has been practicing naturopathic medicine for well over 30 years. He is best known for his research on human blood groups and individualised nutrition and is the author of more than 20 books, including the New York Times best-seller Eat Right 4 Your Type which is consistently on bestseller lists many years since its publication (1998). It has been translated into 65 languages and has reached over 7 million people worldwide.
For his work on blood type and nutrition, Dr D'Adamo was selected 1990 Physician of the Year by the American Association of Naturopathic Physicians. In 1999, respected industry analysts named Eat Right 4 Your Type one of the ten most influential health books ever and Dr. D'Adamo the most intriguing health author of the year. He is also the founder and editor emeritus of the Journal of Naturopathic Medicine. Dr. D'Adamo is the Distinguished Clinical Professor, Univerity of Bridgeport Health Sciences, Connecticut, USA and a Director of the Centre of Excellence in Generative Medicine. This state of the art teaching, research, and patient care centre is dedicated to better understanding the self-healing behaviours that are the basis of naturopathic philosophy and therapy.
---
About Paul Hopfensperger MIfHI
Paul Hopfensperger is a UK based Master Instructor for Dr. Peter J D'Adamo's Institute for Human Individuality at Body and Mind Studio International Ltd. He specialises in The Blood Type Diet, The GenoType Diet and OPUS23 Genomic Bioinformatics. He was the first and only person from the UK to attend the inaugural OPUS23 Genomic Bioinformatics training seminar conducted by Dr D'Adamo at the Center of Excellence in Generative Medicine, University of Bridgeport College of Naturopathic Medicine, USA in April 2016. Paul also holds a diploma in Diet and Nutrition, and a post graduate diploma in Chinese Nutritional Therapy from The College of Naturopathic Medicine in London.