Categories
Categories
Brands
Brands
Nature's Sunshine - Juniper & Parsley Combination (100 Capsules)
Product Description
Nature's Sunshine

®

Juniper & Parsley Combination - Key System Product - Urinary System
100 Capsules. 50 day supply. Suggested Use: Take two capsules daily with a meal.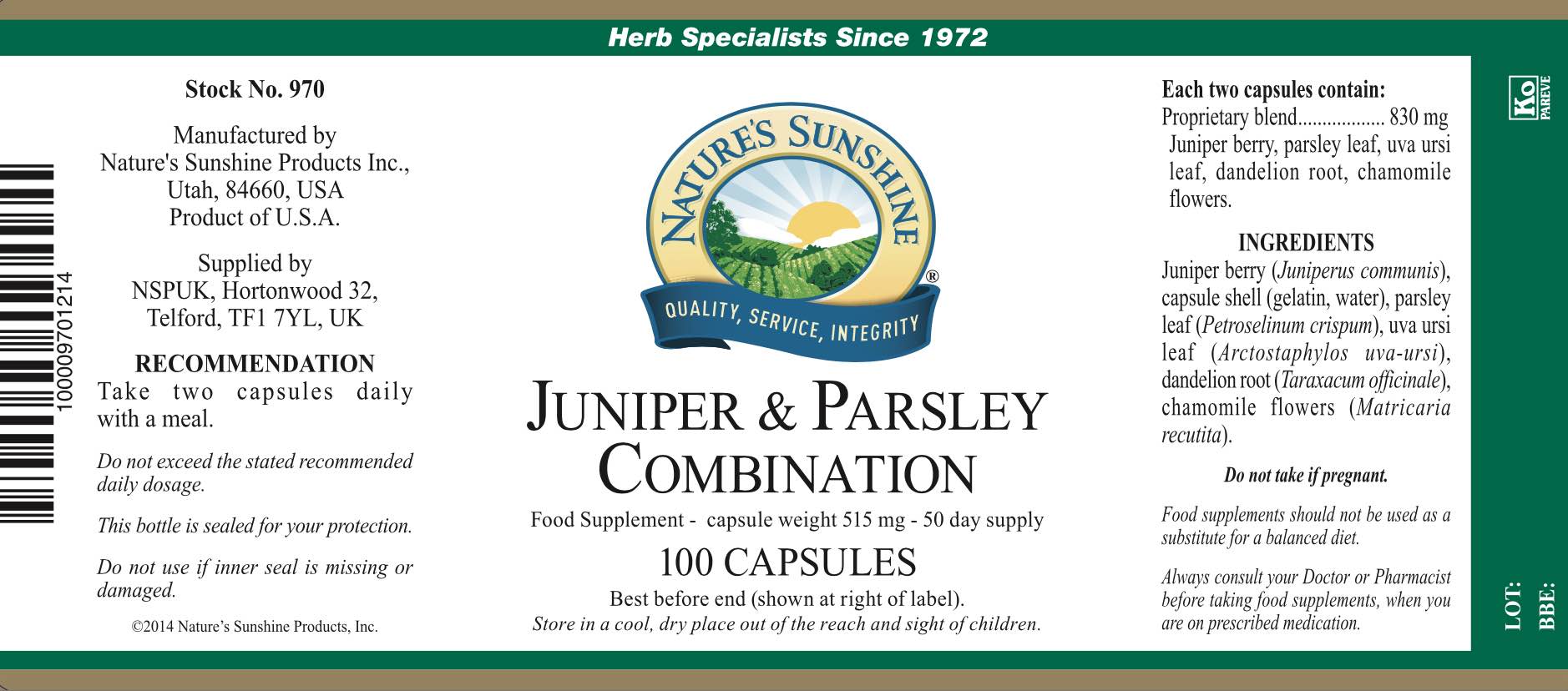 To open a larger .PDF version of this label please <Click Here>
Nature's Sunshine® Juniper & Parsley Combination has been expertly created with time-honoured herbs, used for thousands of years for the urinary system. It is the Nature's Sunshine® Key System Product (KSP) for the Urinary System.
Nature's Sunshine® Juniper & Parsley Combination is one of the Nature's Sunshine® 9

Key System Products

(KSP). It was created specifically to support the Urinary System.
Formulated to give precisely the right ingredients in perfectly balanced amounts, this unique combination contains Juniper Berries and has been specially formulated to help support the urinary tract, bladder and kidneys.
Berries contain resin, tannins, vitamin C, B vitamins, phosphorus, sodium, selenium and zinc. This combination is a herbal source of iron, manganese, potassium, sodium, vitamin A and riboflavin.

Each two capsules of Nature's Sunshine® Juniper & Parsley Combination contains: Proprietary blend - 830mg Juniper Berry, Parsley Leaf, Uva Ursi Leaf, Dandelion Root and Chamomile Flowers.
The Urinary System
The function of the urinary system is to produce and remove the waste product urine, and to regulate the amount, alkalinity or acidity and consistency of body fluids.
The kidneys are designed to keep the blood clean. They spend every minute of the day filtering out impurities. However, like any intricate structure, they have their limitations.
Frequently drinking water throughout the day can alleviate some potential problems, by helping the kidneys flush toxins out of the body

.
The kidneys are the major regulating organ for maintaining proper balance in the body, and amongst the important substances the kidneys help to control are sodium, potassium, chloride, bicarbonate, pH levels, calcium, phosphate, and magnesium

.
Nature's Sunshine®

Juniper & Parsley Combination - Specially Formulated for Urinary Health
Healthy cells in the body need the proper concentration of salts. That's why potassium and sodium are essential to the body's fluid balance.
When the kidneys are not working properly, waste products and fluid can accumulate in the body which can lead to serious health threatening conditions.
Since food processing lowers the potassium content of foods, we should try to include plenty of fresh, whole foods in our diets.
Herbal supplements like Nature's Sunshine®

Juniper & Parsley Combination and vitamins and minerals, can also help provide the urinary system with the nutrients it needs to function correctly.
Ingredients: Juniper berry (Juniperus communis), parsley leaf (Petroselinum crispum), uva ursi leaf (Arctostaphylos uva-ursi), dandelion root (Taraxacum officinale), chamomile flowers (Matricaria recutita). Capsule shell (gelatin, water).
WARNING
Not suitable for use during pregnancy or for those planning or tying to conceive.
| | | | | | |
| --- | --- | --- | --- | --- | --- |
| UPC | Quantity | Vegetarian | Vegan | Kosher | Gluten Free |
| NSP970 | 100 | No | No | No | Yes |
---
If you are pregnant, nursing, taking any medications or have any medical condition, please consult your healthcare practitioner before taking dietary supplements.
Food supplements should not be used instead of a varied balanced diet and a healthy lifestyle.
Product Reviews
Find Similar Products by Category
Customers also viewed